CLIENT
Firestone's Culinary Tavern, Firestone's Market on Market, Firestone's Raw Bar
PROJECT NAME
Brand Identity
INDUSTRY
Food and Beverage
For years, Firestone's Culinary Tavern has been a Frederick staple, bringing an upscale-bistro-meets-local-haunt vibe to the downtown area. The addition of Firestone's Market on Market catapulted the brand to new heights, with its mouth-watering selection of specialty food items, beer, and wine. And as the Raw Bar prepared to move in almost a decade later, Firestone's planned to use the humble oyster to fill a missing, and highly sought-after, niche in downtown. But, with three uniquely different businesses, one of which was just on the cusp of opening, and a firmly established brand reputation, they needed to carefully position themselves in the right light, while still embracing their roots.

HE WAS A BOLD MAN THAT FIRST ATE AN OYSTER
The brands had to work together as a collection, but also stand on their own to represent each unique dining experience. Keeping with the history of the Firestone's brand, we retained the signature 'F' as the foundation and common thread between each one-of-a-kind offering. To help the brands work independently, we gave each logo its own unique personality. Think of it like three high-achieving siblings wanting to make sure Aunt Millie can tell them apart at the family reunion. For the Tavern, the knives pay tribute to the restaurant's original logo, and give a nod to the masterful culinary experience that is the Tavern. The Market uses a warmer color palette and a beautiful fig illustration, making it feel approachable, cozy, and friendly. For the Raw Bar, the oyster plays the leading role, so it was only natural to incorporate it into the brandmark. The new logos create a cohesive, modern brand, but still pay homage to Firestone's culinary foundation in Frederick.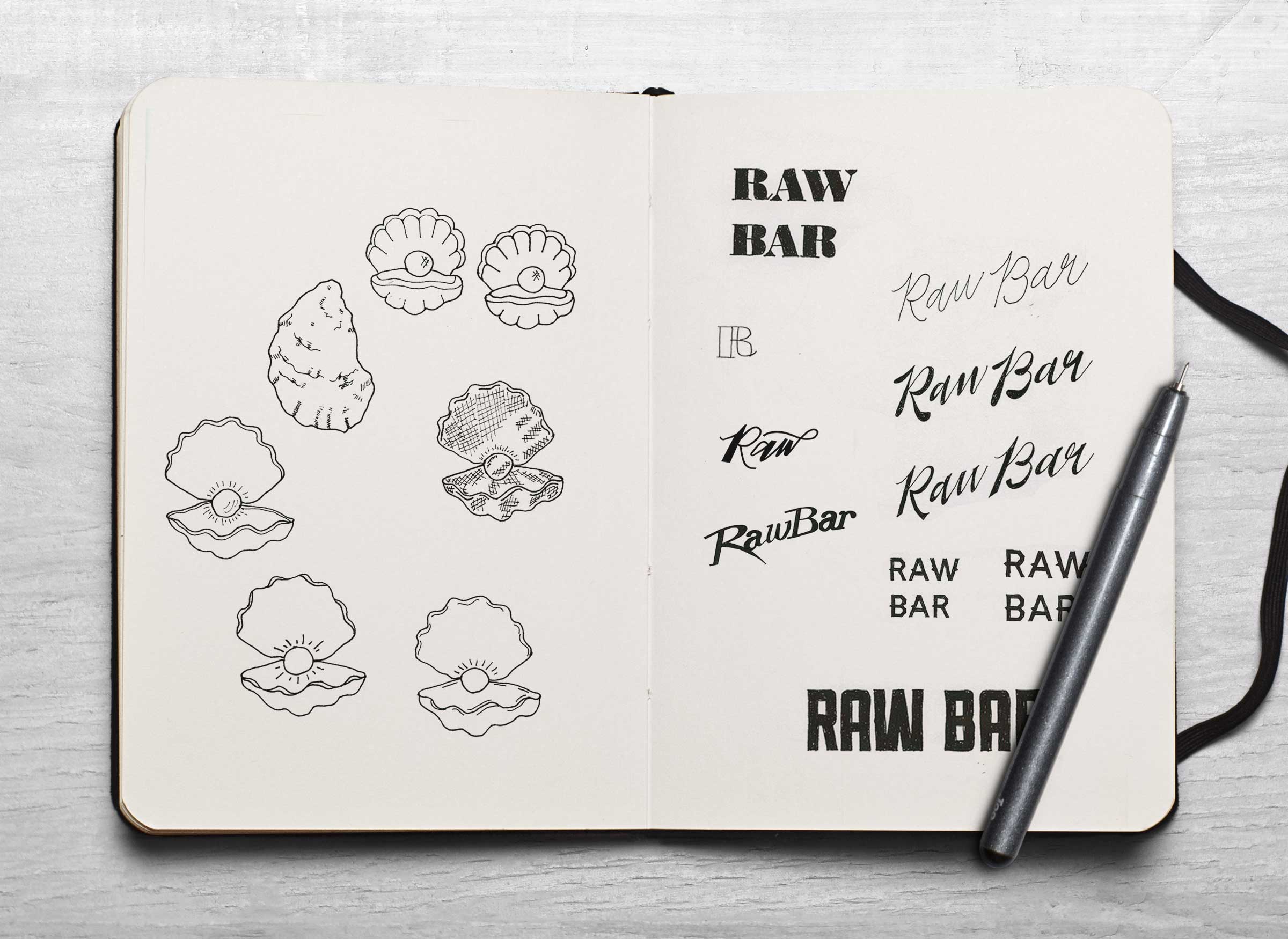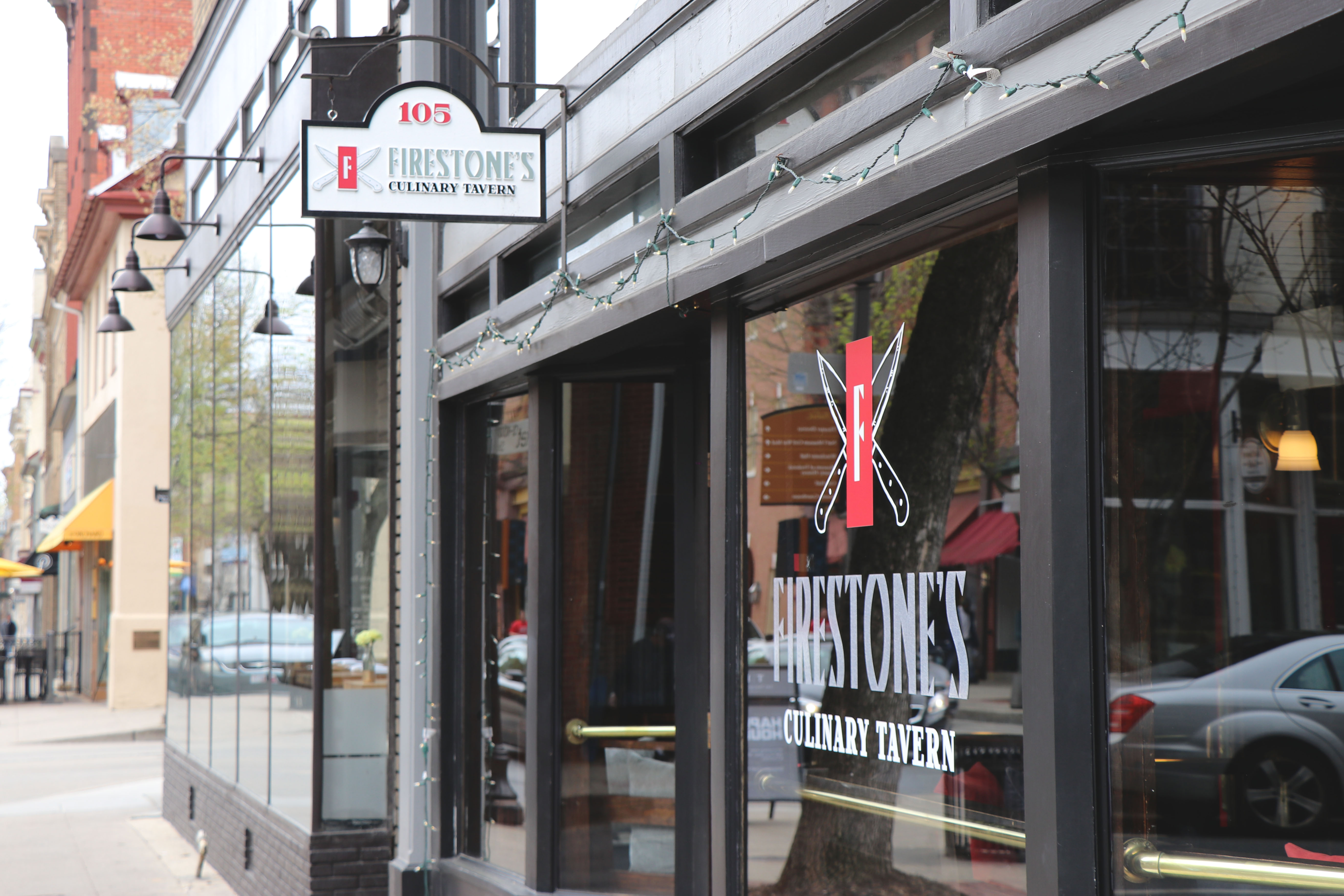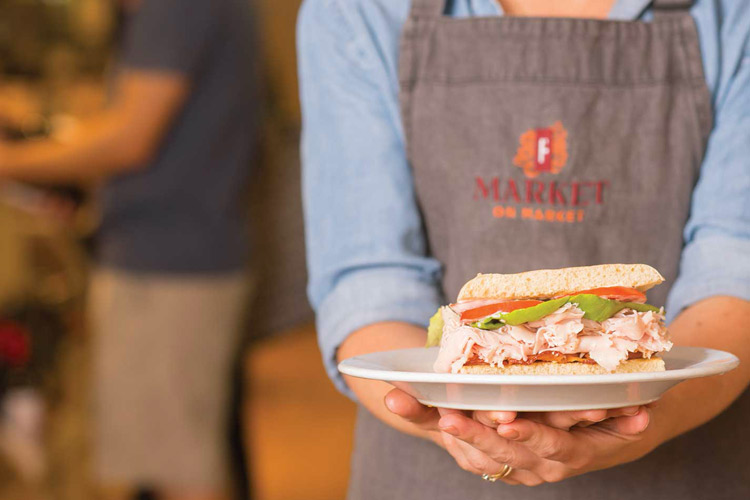 SERVICES
Research
Illustration
Logo Design
Web Design
Print Design
Photography Art Direction
Copywriting
Copy Editing
Media Planning
Social Media Management
Content Creation
Search Engine Optimization
Vendor Management

AW SHUCKS!
Like a picture of your ex you ceremoniously burned the moment you broke up, all instances of the original Tavern and Market logos were replaced. With the logos for each restaurant refreshed, redesigned, and re-established, we turned our attention toward strategically developing Firestone's collateral and marketing pieces to align with the rest of their brand vision.
A great deal of research and planning went into this multi-faceted project. We worked closely with the interior designer on every interior and exterior aspect of the Tavern and Raw Bar. A contemporary color palette was curated that would work across both brands. The Tavern takes on the more masculine colors in a big way, from a freshly painted bold red front door to black trim and silver interior finishings, while the Raw Bar utilizes the subtle colors indicative to the interior of an oyster shell.
We looked into every minute aspect of the customer experience, making sure each touch point contributed to the Firestone's experience, from the moment you approach the building til it's time to pay your bill. Exterior signage, awnings and paint was updated and existing collateral was reimagined. Servers eager to share the fresh local oyster varieties on hand are cleverly decked out in t-shirts with witty sayings about oysters that have all become part of the approachable nature of the Raw Bar. Checks are even presented with a postcard you can take away as a memento from your experience or send to a friend.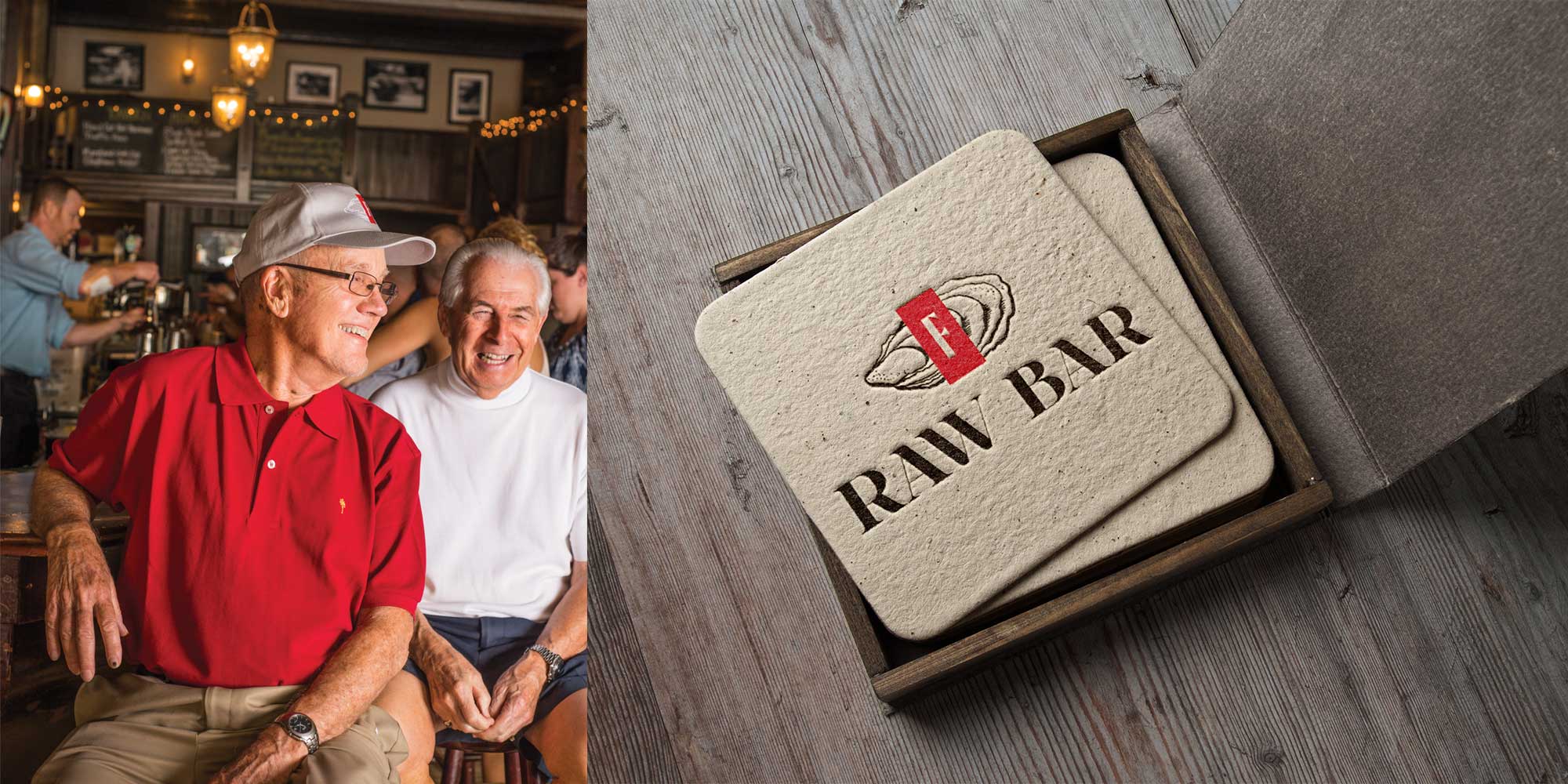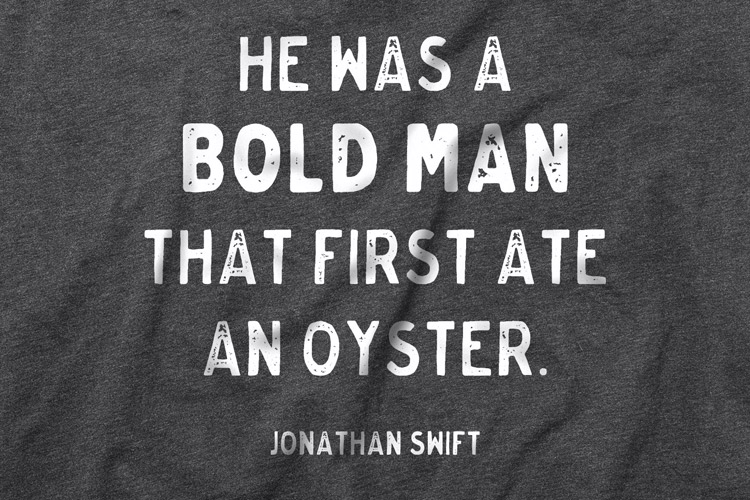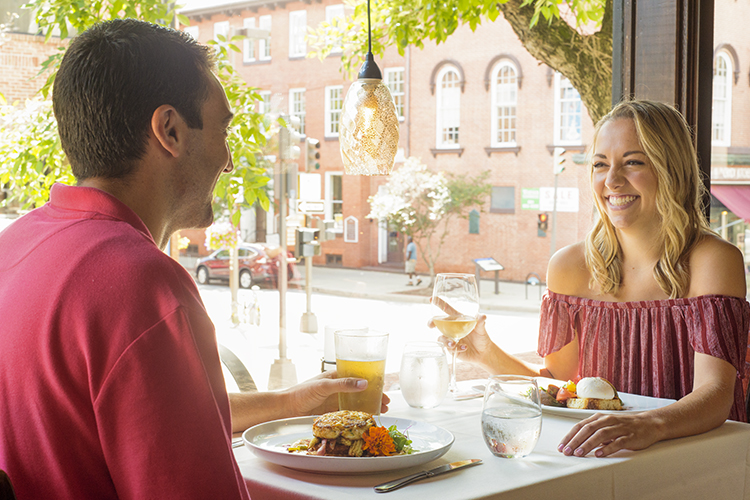 PEARL OF WISDOM
The next step in the process was to update Firestone's digital presence. Their original website only encompassed the Tavern, and the technology was outdated. With the new logos and color palette in hand, we designed a singular, easy-to-navigate website for the Tavern, Raw Bar, and Market. A new content management system gave the restaurants more flexibility to add or remove content as needed for menu updates or daily specials. With a strategic copywriting and Search Engine Optimization plan, we improved Firestone's ability to connect and communicate with their customers online.
Finally, a restaurant opening can prove to be a challenge for even the most seasoned team of restaurateurs. Having developed a relationship of trust with the Firestone's team, they further engaged us to assist with soft and grand openings, coordinating social media and event photography that could be utilized long after the launch of the Raw Bar.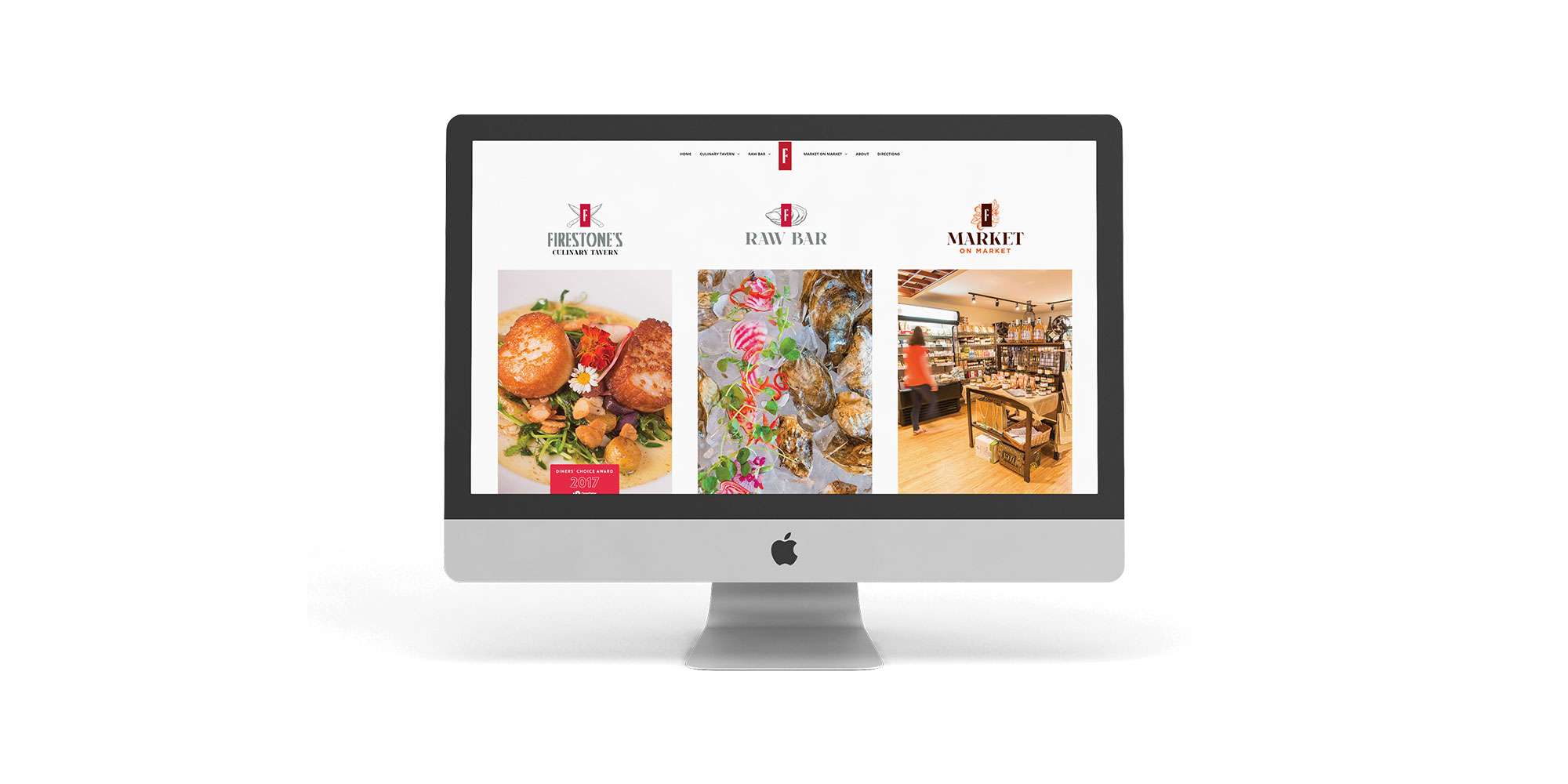 BON APPÉTIT
With a strategic and multi-faceted approach to the brand update, logos, collateral, website, and social media, we were able to help elevate the Firestone's brand and improve their connections with customers across three separate, but unified, businesses. You know that feeling of pure joy and excitement you get when you see your waiter walking toward your table with a tray full of food? That's the feeling we want customers to get when they see the new brand cohesively and seamlessly come together.