CLIENT
Downtown Frederick Partnership
PROJECT NAME
Downtown Frederick Partnership Website
INDUSTRY
Non-Profit
Downtown Frederick is a vibrant community made up of mouth-watering restaurants, unique shopping destinations, and a one-of-a-kind culture. And behind the scenes, Downtown Frederick Partnership is pulling the strings and working tirelessly to continue to preserve the vitality of this great city. They host exciting events, support local businesses, and supply other necessary resources to help make Downtown Frederick great! Their organization is made up of merchants, or partners, that live, work, and play in Downtown Frederick. For years, we've helped them market themselves with print materials, advertisements, and event collateral, but one thing that needed to be updated was the website. They were quickly outgrowing their original site, and with its antiquated technology and cumbersome back-end, it was time to start over from scratch.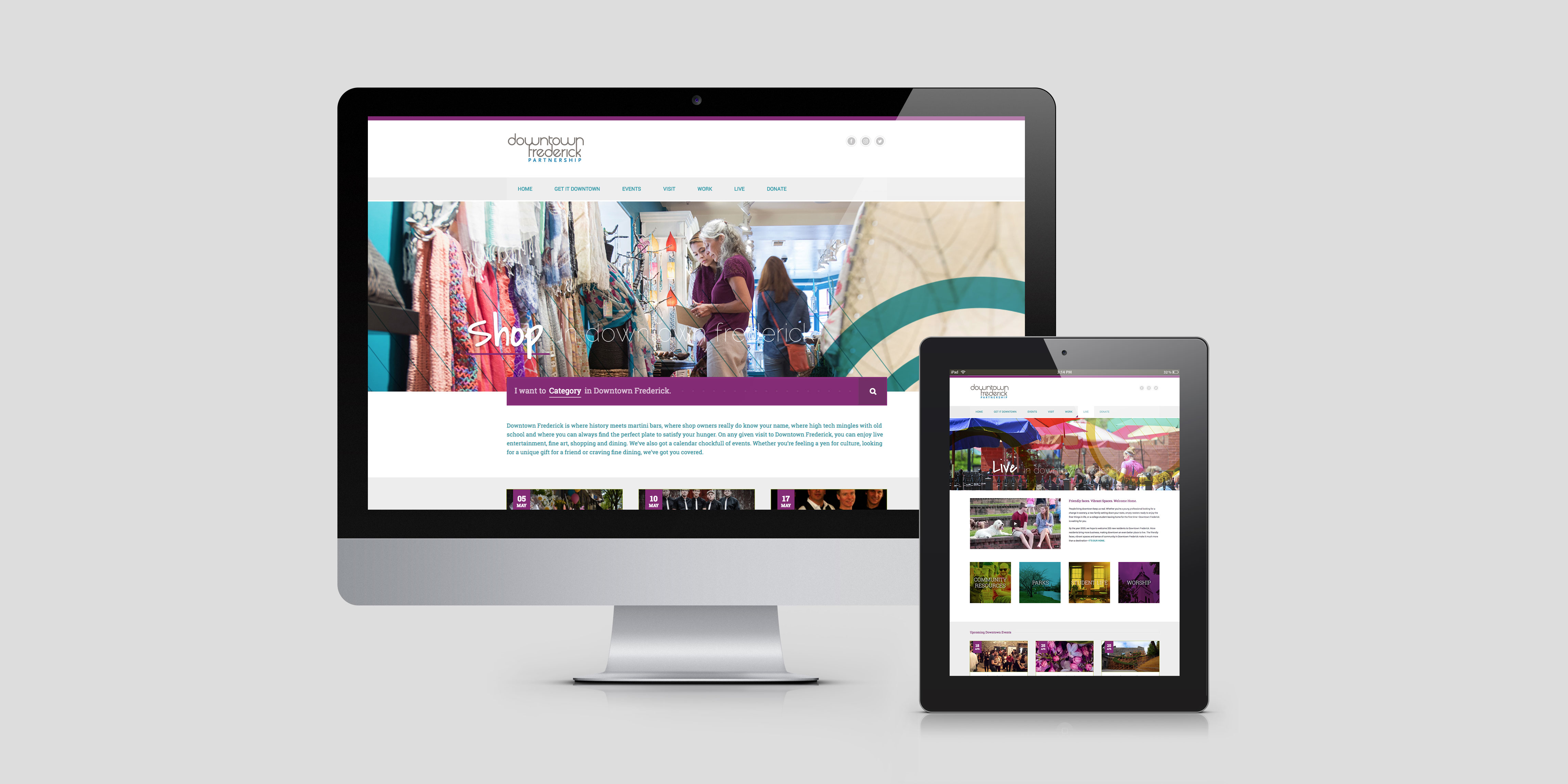 SHOP, PLAY, EAT
In order to best showcase the immense community support that DFP fosters, a merchant directory was priority number one for the new website. The directory feature prominently displays each of the merchants, their business description, social media networks, hours, and more information, and gives users the opportunity to search through the listings by using categories like art, clothing stores, specialty foods, or services. It even gives you the option to search for all pet-friendly locations in downtown, for those days when want to shop and dine with your furry friend.
Their original site sort of had a merchant listing, but the back end of the site required DFP to enter all of the information individually. That meant that any time one of their partners needed to update their hours, change their location, or edit their listing in any way, one of the team members at DFP had to do it manually and the process was slow. With the new site, merchants have their own individual back-end access that allows them to update their own merchant page as they see fit. Downtown Frederick Partnership then has the option to approve or deny the change, and ta-da! it's done. The process is much more flexible now, and saves time for both the merchants and DFP!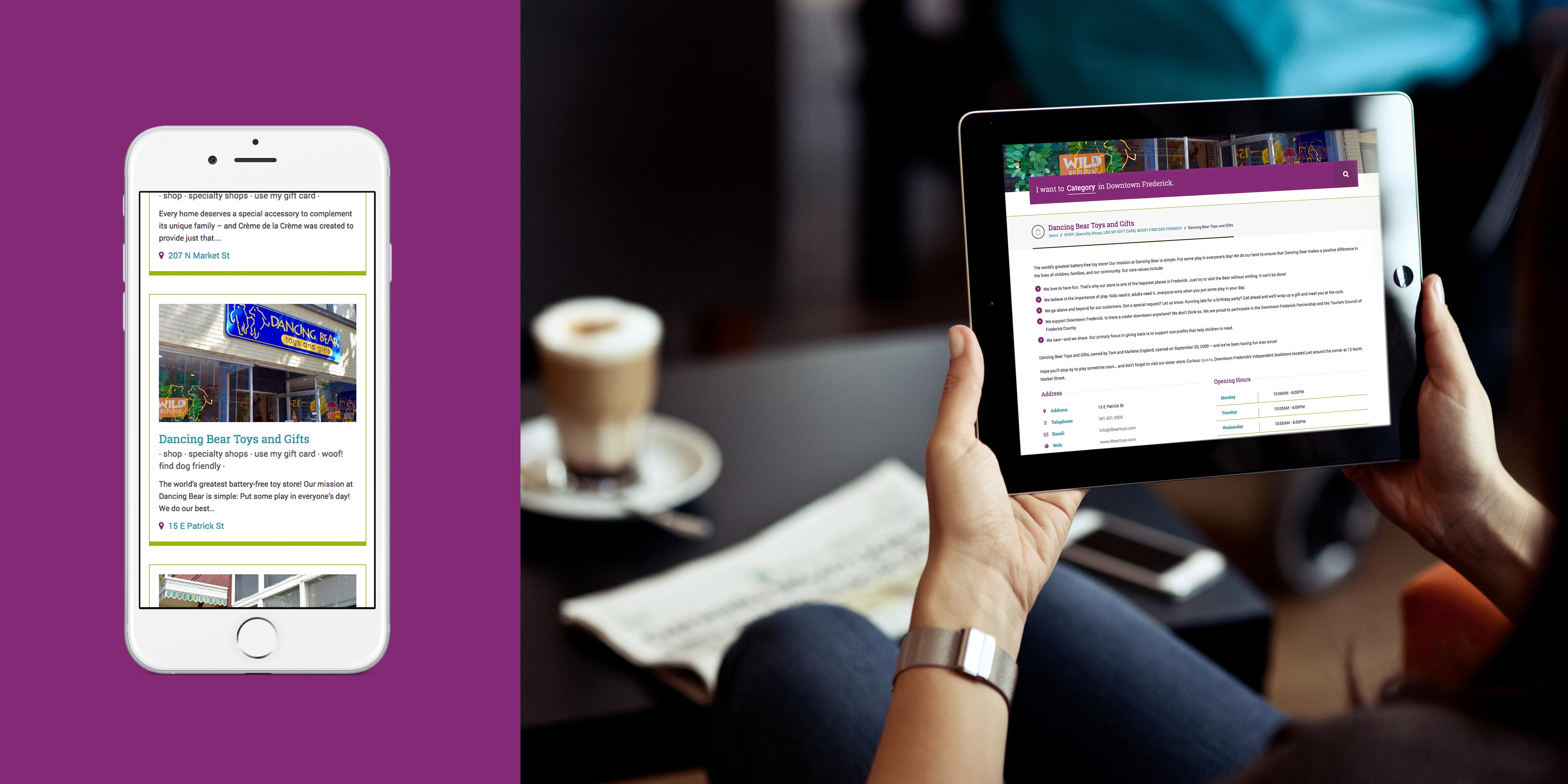 SERVICES
Research
Web Design
Vendor Management
Search Engine Optimization
Merchant Portal

EXPERIENCE DOWNTOWN FREDERICK
Downtown Frederick Partnership puts on roughly 80 events each year, and that doesn't even include the several hundred events that their merchants collectively host throughout the year. So, their next must-have feature for the website was an event calendar. With the new events page, users can either search by specific annual event, or see a collection of all downtown events in the calendar setting. DFP can enter their own events, but more importantly, merchants can add event listings to their individual merchant page and it will automatically populate the event calendar. Each event listing has a description, picture, date and time details, ticket information, and sponsor logos that link to sponsor websites. An interactive Google Map also shows the location of each event, as well as nearby things to do. So if you're planning to see a show at the Weinberg and want to know what restaurants are nearby, you can find it. Or if you're attending Alive@Five and want to visit a brewery with your friends afterward, it's all right there in one place.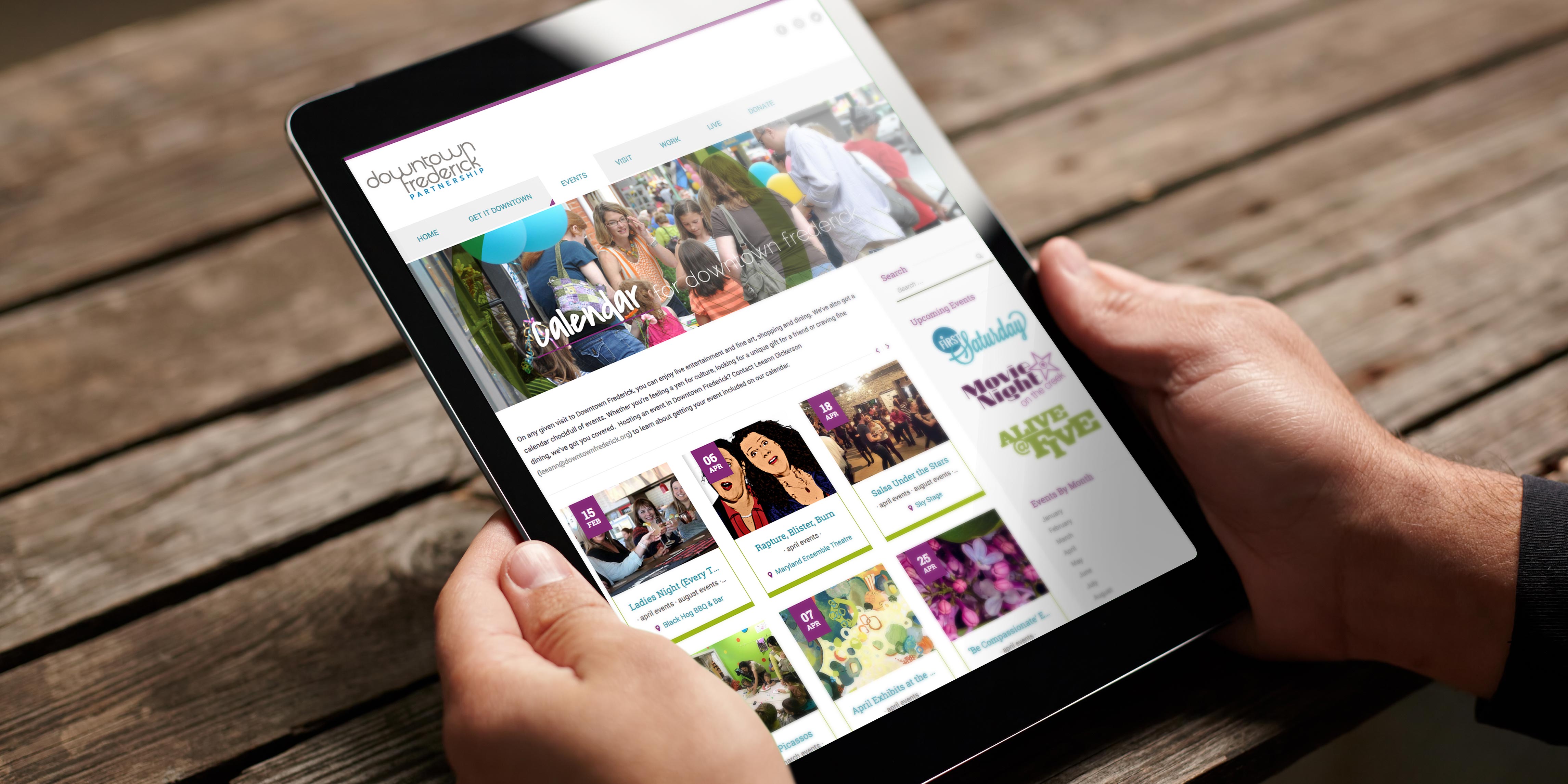 EXPERIENCE YOUR CORNER OF DOWNTOWN FREDERICK
We know a lot of people are using this site while they're exploring right in the heart of downtown, so it was important that the site was usable across all devices—desktops, tablets, and cell phones. To help promote some of DFP's other marketing objectives, we included a newsletter signup function, a job board for downtown employment opportunities, and a blog with a category search option. We also implemented a Search Engine Optimization plan to improve the site's searchability, and made sure the back-end was easy for DFP staff members and merchants to use. The youthful design of the website influenced a redesign of DFP's other marketing materials, creating an exciting and cohesive brand experience. By the end of the project, we checked all of DFP's boxes for what their website should be, and threw in a few check marks of our own that they weren't expecting, but that helped improve the usability and functionality of the site.