INDUSTRY
Nonprofit
SERVICES
Custom Illustration, Web Design, Print Design, Social Media, Copywriting, Ad Buying

Located in Frederick, Maryland, Heartly House is an extraordinary nonprofit organization that serves survivors of domestic violence in Frederick County. For decades, they've provided supportive services for people of all ages, genders, races, and socioeconomic status who have been affected by domestic abuse, sexual assault, human trafficking, and child abuse. In addition, the organization offers programs and events to spread awareness and educate the community regarding domestic violence, workplace harrassment, human trafficking, and more.
With the considerable growth of the county and the rise in frequency and severity of violence during the COVID-19 quarantine, Heartly House's services have been needed more than ever. In FY2021, Heartly House saw a 9% increase over the previous year with 1,749 new clients who experienced intimate partner violence, sexual assault, human trafficking, and child abuse. On the other hand, COVID-19 prevented Heartly House from safely holding fundraising events that provide them with the crucial funding they need to help survivors.
Postern partnered with Heartly House to develop and promote a new fundraising method, and ran a powerful county-wide campaign to spread awareness. The organization was also able to make effective changes without pausing important services and continued raising crucial funds.

"We're Over It" Campaign
This attention-catching campaign sent a straightforward message to the men and boys of Frederick County: "We're Over It." We're over rape culture, sexual assualt, and intimate partner violence.
Postern created custom line illustrations and gut-punching verbiage that would initiate tough conversations about who is really at fault for sexual assault and intimate partner violence. The campaign asks men and boys to look closely at their own actions and beliefs, and to stand up against sexual assault by asking questions like "Making light of something so dark?" and "Sweeping violence under the rug?" Each question is followed by the tagline phrase "We're Over It," as a meaningful punctuation that sends a clear message about standing up and speaking out against sexual violence.
The illustrations contained an element of implied movement in each, including a lightbulb bursting, a broom sweeping, a zipper pull, and others. In the animated video, these motions were brought to life to make an impact and drive home the meaning of the message.
We're Over it Campaign Commercials in English and Spanish
Pieces of the campaign made its way to audiences through a wide variety of media, including digital ads, city bus ads, print ads in the Frederick News-Post, animated television commercials that aired via Comcast, radio ads aired on WFRE 99.9, and more–in both English and Spanish. The campaign was also printed on t-shirts in a variety of styles, ceramic and cardboard coasters, as well as stickers and buttons. Multiple channels and languages ensured the message behind the campaign was wide-reaching across the county, both online and in print.

Healing Hearts Circle
The emergence of COVID-19 in 2020 prevented Heartly House from hosting several critical in-person fundraising events. To create long-term stability in their funding, their solution was to develop a special giving group that would bring donors into the inner circle: The Healing Hearts Circle.
The Healing Hearts Circle is a group of caring people who have taken a pledge to donate $5,000 or more over the next five years to the organization so they can continue their work to help survivors heal and educate the community. Postern developed the branding and messaging, and a comprehensive promotional campaign for this new program, including a logo, brochure, webpage, social graphics, and a lapel pin for those who join the Healing Heart Circle.
When creating the logo, Postern wanted to make something that matched Heartly House's existing brand, but was refreshing and new. The logo is an abstract heart using a single line in the brand's turquoise blue so that it was recognizable, yet would generate new interest. It also included a cursive lowercase "h" as a nod to the name of the organization.
The messaging for the campaign was written to resonate with both existing donors and new donors. It made an emotional impact and called on the community to help sustain the important work of the nonprofit.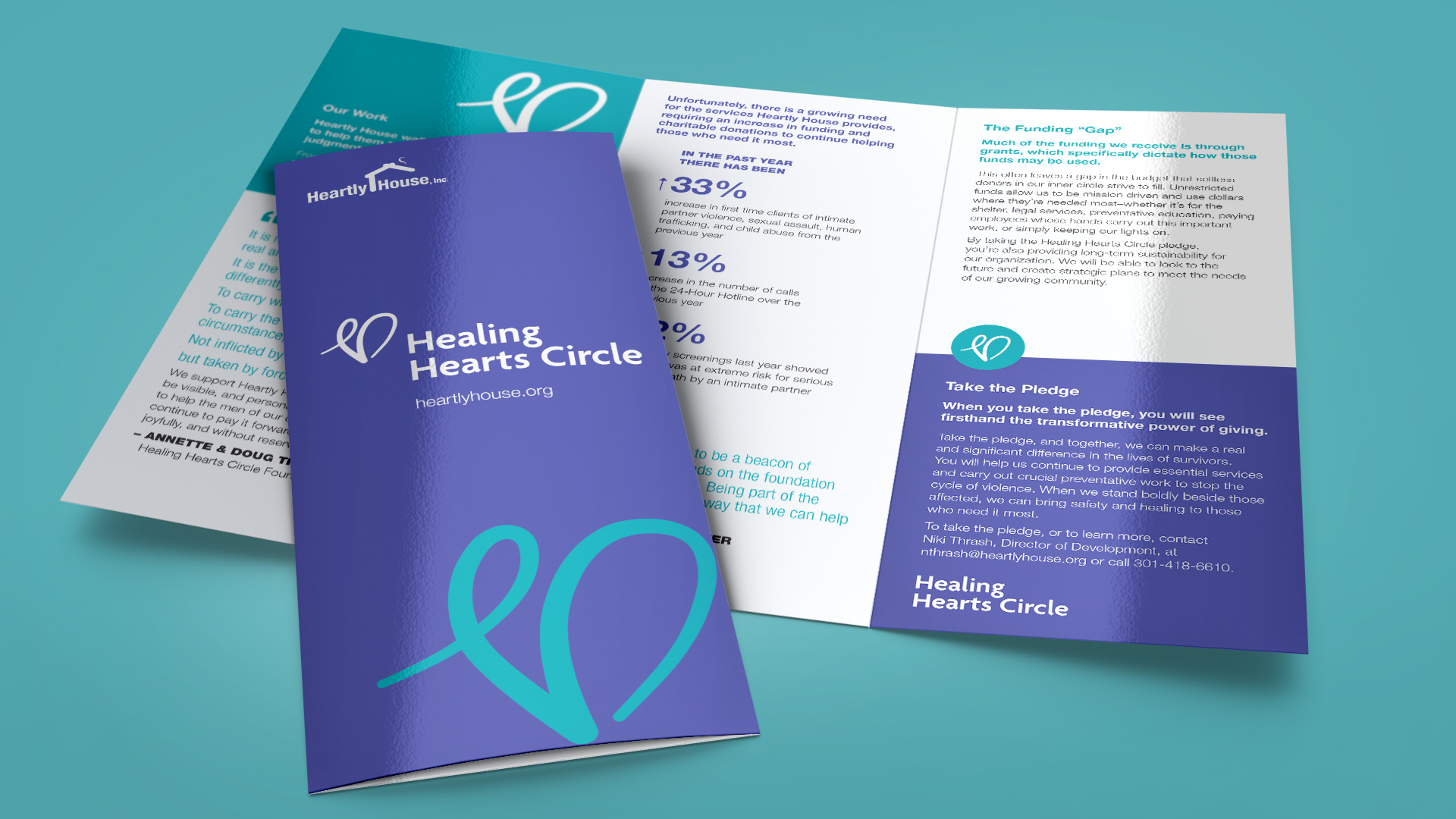 Healing Hearts Circle Brochure
"Healing rarely, if ever, happens in a vacuum. Only when a community comes together with gentleness, kindness, understanding, and benevolence, can we create a space for hearts and minds to heal."

The PEACE Program
Heartly House needed a logo for The PEACE Program, a schedule of programming, group counseling, and other supportive events. Like the "Healing Hearts Circle" logo, this logo would need to include Heartly House's existing branding, but represent the program as a new initiative. Using the organization's brand colors, the logo is a triangle shape featuring a color gradient so that each band blends into the next, representing unity and support.
"Heartly House is thankful to have Postern as a partner to help us grow our messaging and reach a wider audience in Frederick County. Having professional and consistent branding is important for nonprofits, and Postern has provided that for us without compromising our mission or values. Postern truly feels like another member of the Heartly House team, and they make us feel like their most important client."
HEARTLY HOUSE TEAM