They say life is like a box of chocolates, you never know what you're gonna get. Well, with Perfect Truffle you know exactly what you're gonna get: a delicious box of chocolates. Their storefront in Everedy Square served them well for many years, but a move to Market Street, the primary shopping corridor in downtown Frederick, opened up a ton of opportunities, including the chance to reinvent themselves in a more contemporary manner. With the clean lines of the new interior design as inspiration, we set about to develop a new identity and voice for the chocolatier.
Research, Illustration, Logo Design, Graphic Design, Social Media Management, Copywriting, Photography

A Chocolate a Day Keeps the Doctor Away
The original logo and brand for Perfect Truffle was very formal and matched their former location to a T. But sometimes a clean typographic treatment is all that is needed for a business with an easily recognizable name. We therefore designed a distinctive and appropriate wordmark. To complement this refined typography and maintain the high-end feeling, we incorporated a sophisticated, yet modern color palette of complementary burnt orange and deep purple colors. The new brand mark's fun letter combination feels approachable, while still appealing to the store's wide audience range. The simplicity of the identity allows it to be rendered and represented in a range of material and forms from store signage, both interior and exterior, to custom packaging, and online.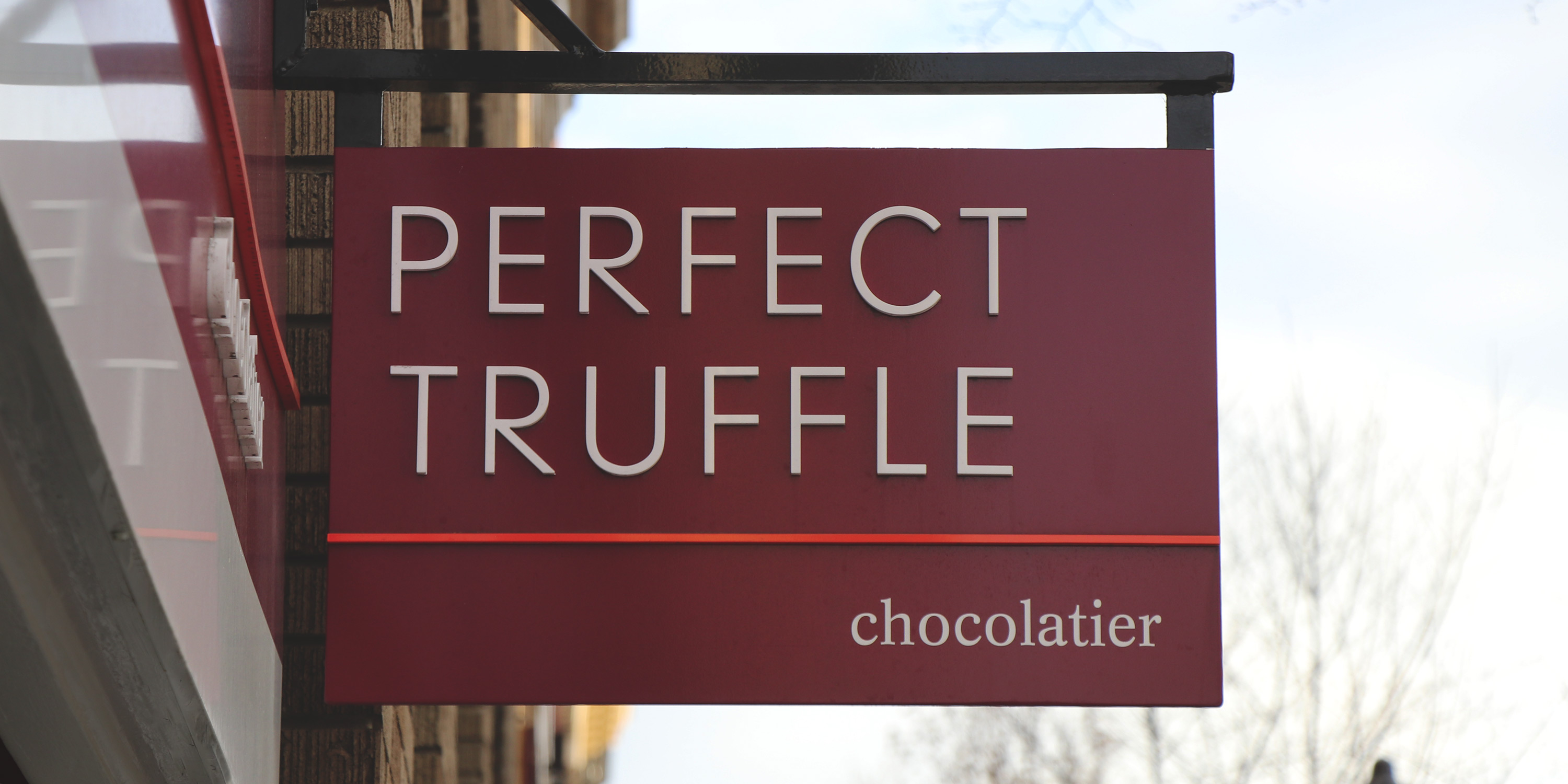 Part of Perfect Truffle's goal with moving the shop and rebranding was to make themselves more accessible to the public. With our experience in the Frederick community, we knew that the best way to connect with the people here was through social media. So Perfect Truffle recruited us to manage their social accounts.
We kicked off Perfect Truffle's social media management in March, so it only seemed logical to hold a bracket competition at the same time as NCAA's March Madness tournament. The contest was the perfect way to showcase the approachable personality, while encouraging people to try new flavors and engage online. We pitted eight of the most popular truffles against each other in a competition, with community members voting for their favorite on Facebook. 800 votes later and Salted Dark Chocolate Caramel took the grand prize. Unfortunately for Salted Dark Chocolate Caramel, there was no official trophy for the competition and no nets for the winner to cut down. The bracket helped increase Perfect Truffle's followers, and was an ideal way to kick off their new social media content.
Following the success of the March Madness competition, we kept the momentum going with Perfect Truffle's social platforms. We maintained their accounts, developed a posting calendar, curated content, and interacted with other local businesses and customers. Our content highlighted new flavors, gave customers a peek behind the scenes at the making of the chocolate, and showcased the lively atmosphere of the shop. Within 10 months of managing Perfect Truffle's accounts, we increased their Instagram followers by more than 700% and were able to increase engagement across all platforms.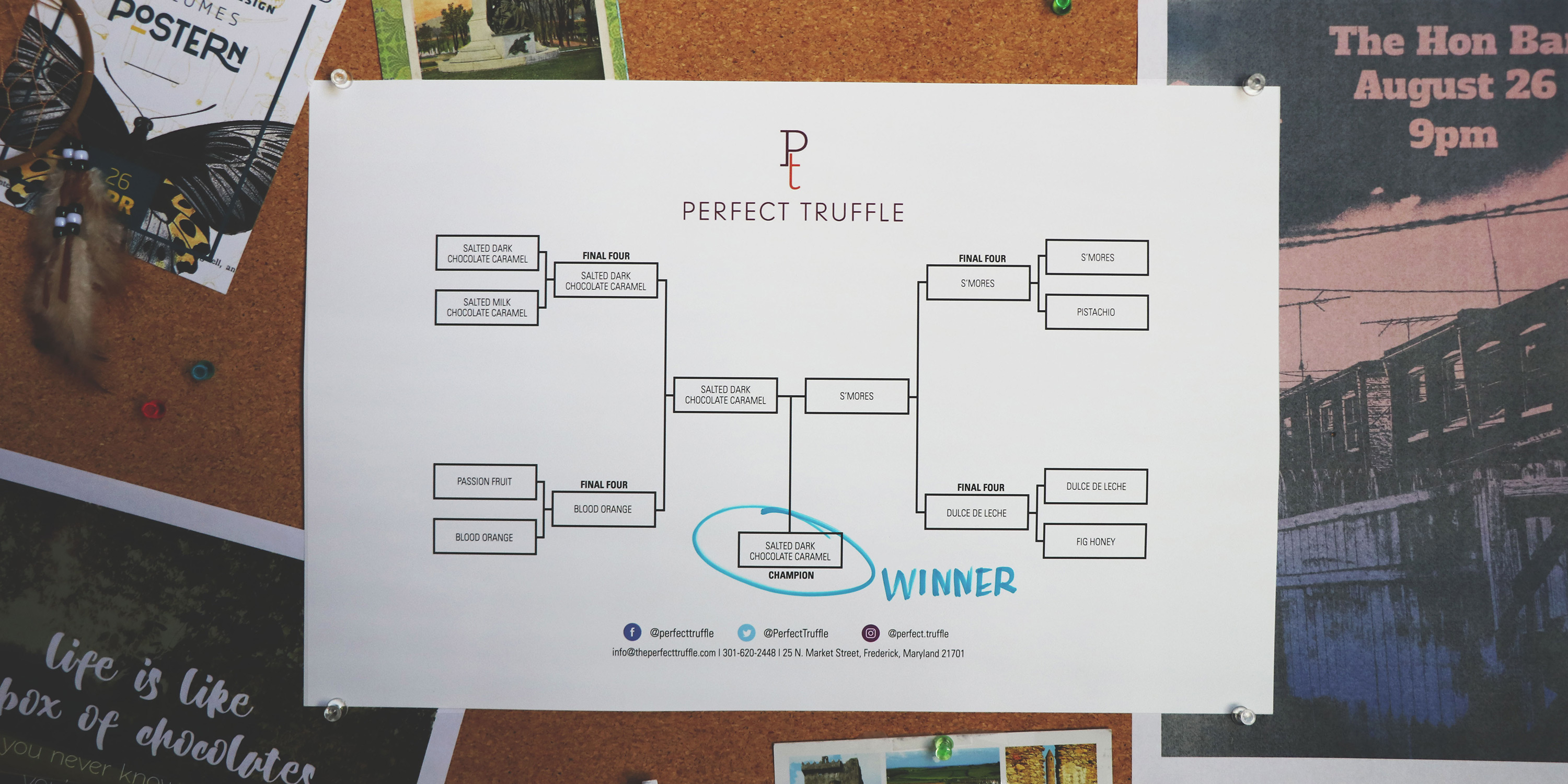 A Balanced Diet is Chocolate in Each Hand
The combination of the new identity and brand voice have helped Perfect Truffle stand out from their downtown competition. Their chocolates are selling better than ever before and their new location has put them right in the heart of Downtown Frederick—a pretty great place to be.