CLIENT
Visit Frederick
PROJECT NAME
Visitor Guide Publication
INDUSTRY
Tourism and Hospitality
Frederick has seen enormous visitor growth in that last decade because it has something to offer nearly every member of the family, including top-chef culinary experiences, one-of-a-kind museums, and outdoor adventure. Frederick has become a sought out destination for regional and international travel. But the marketing collateral wasn't keeping pace and it was time for that to change.
The biggest project every year is always the Visitor Guide, created annually to let visitors know the many wonderful things to see and do in Frederick County. However, with any well-established business, a large-scale overhaul of identity can sometimes be slow to start. We came to realize that having lived with many of the existing brand elements for so long, it was hard for us and the decision makers to buy into far-reaching changes. Prior to starting the 2018 Visitor Guide, we began to hone a new visual story through a series of brochures for Visit Frederick that began to incorporate custom illustrations and typographic treatments, and eventually a new voice. These new elements set the stage for a complete overhaul of advertising and their visitor guide.

DISCOVER A DESTINATION
This project, like most, started with tons and tons of research. Designing this 76-page publication is not for the faint of heart and after successfully developing the same publication for 14 years, we were tasked with bringing new life to visitor experiences without misrepresenting Frederick's historic value or making the guide impractical to use. We requested Visitor Guides from across the country, flagged pages in local and national magazines, and even used our own travel experiences as reference. We looked at what some guides got right and what wasn't working, and then we decided to forge our own path and break the mold on what a traditional travel guide was supposed to be.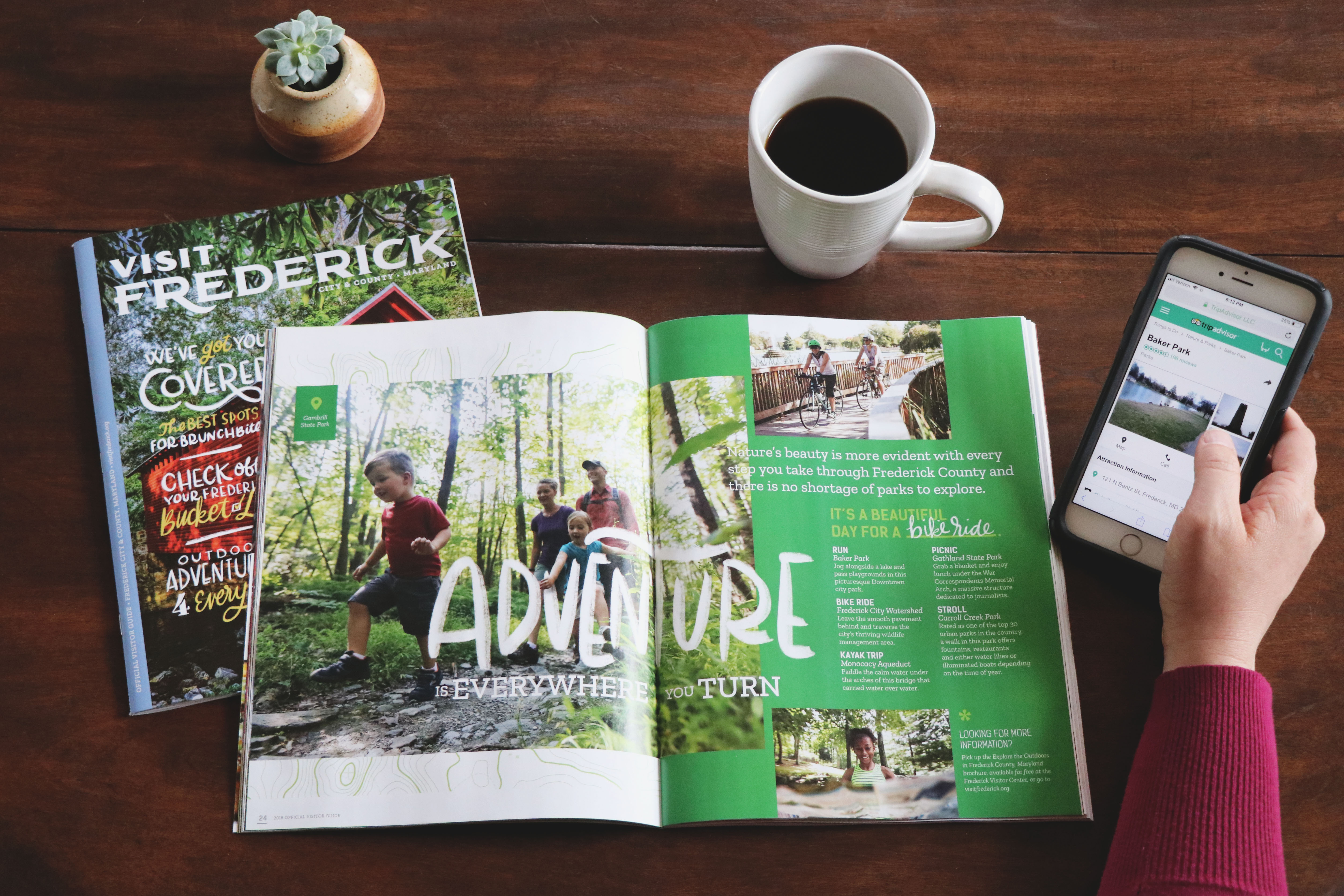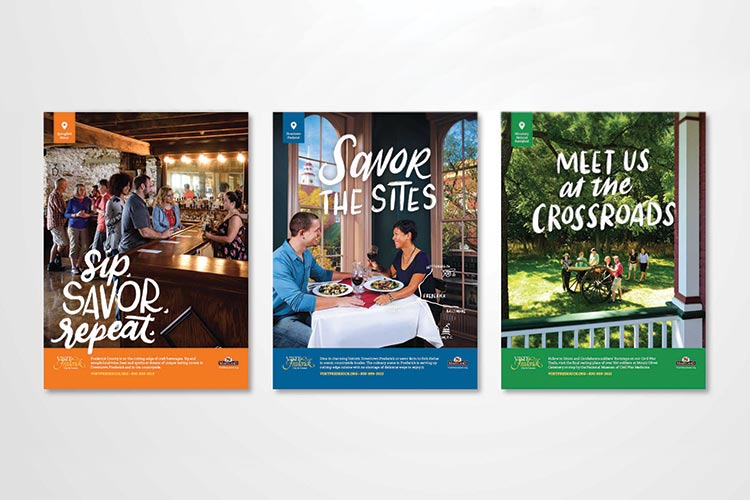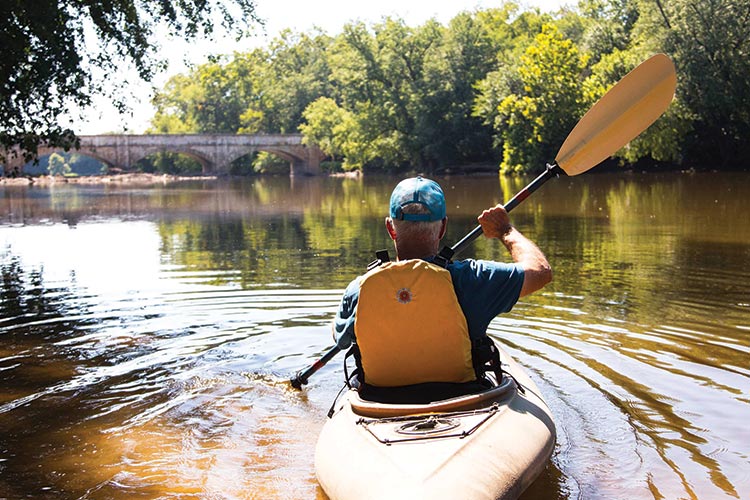 SERVICES
Research
Publication Design
Illustration
Hand Lettering
Custom Typography
Advertising Sales
Advertising Design
Photography Art Direction
Photography Editing
Client Asset Management
Copy Editing
Vendor Management

DON'T JUDGE A BOOK BY ITS COVER, EXCEPT THIS ONE
Like a team of flippers on an HGTV renovation show, we gutted and overhauled the Visitor Guide. We reorganized the content, redesigned the entire guide from cover to cover, and introduced design features that will be carried over to advertising, brochures, and other marketing materials. After metaphorically tearing down a few walls, the new cover acts as our open floor plan and sets the tone for the updated publication. Pulling inspiration from local and historic signage, a new masthead was developed that better represents the Frederick experience. While the historic covered bridge pays homage to Frederick's rich historical background, its juxtaposition with hand-drawn type provides the approachability our county has become known for.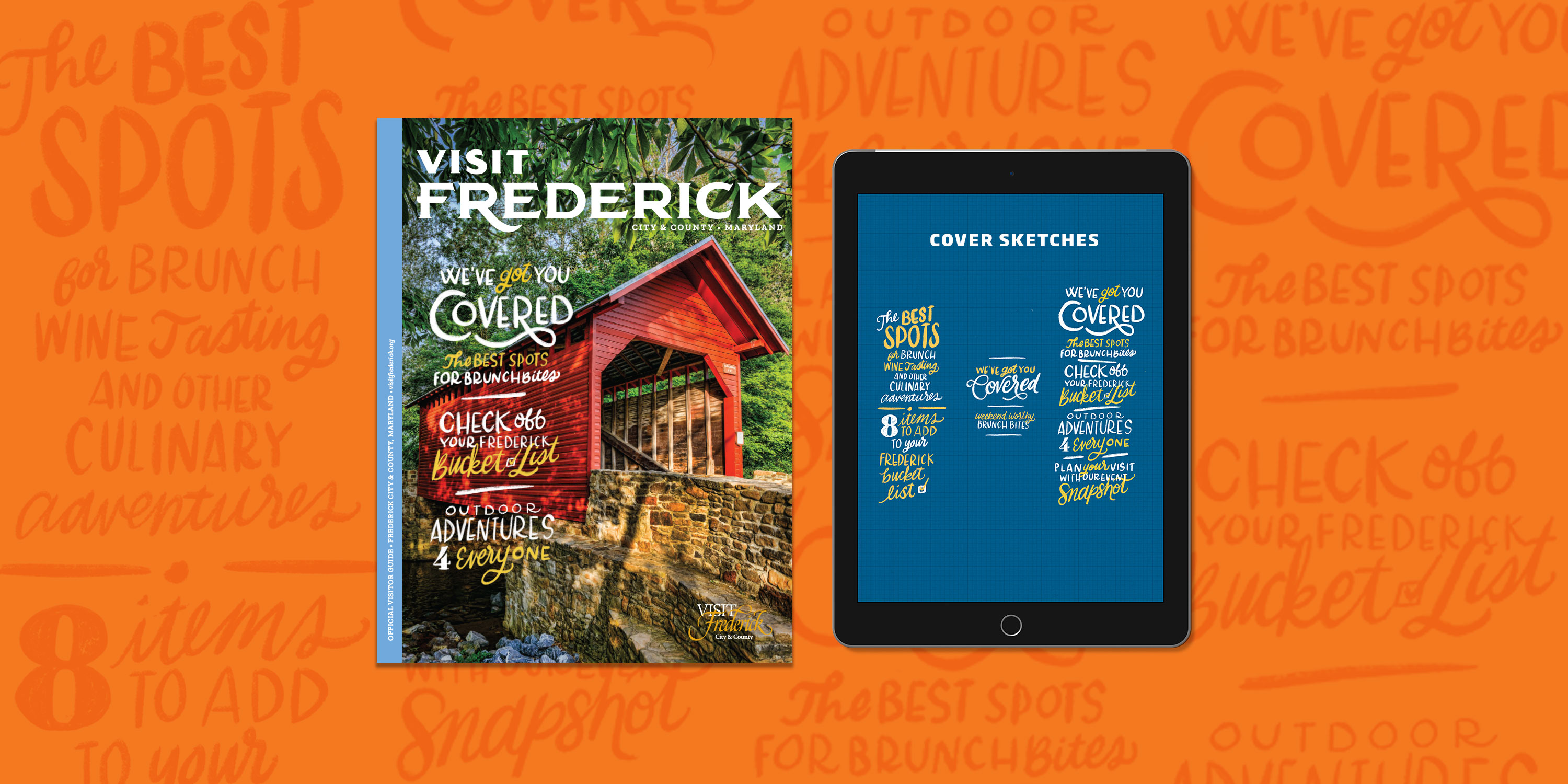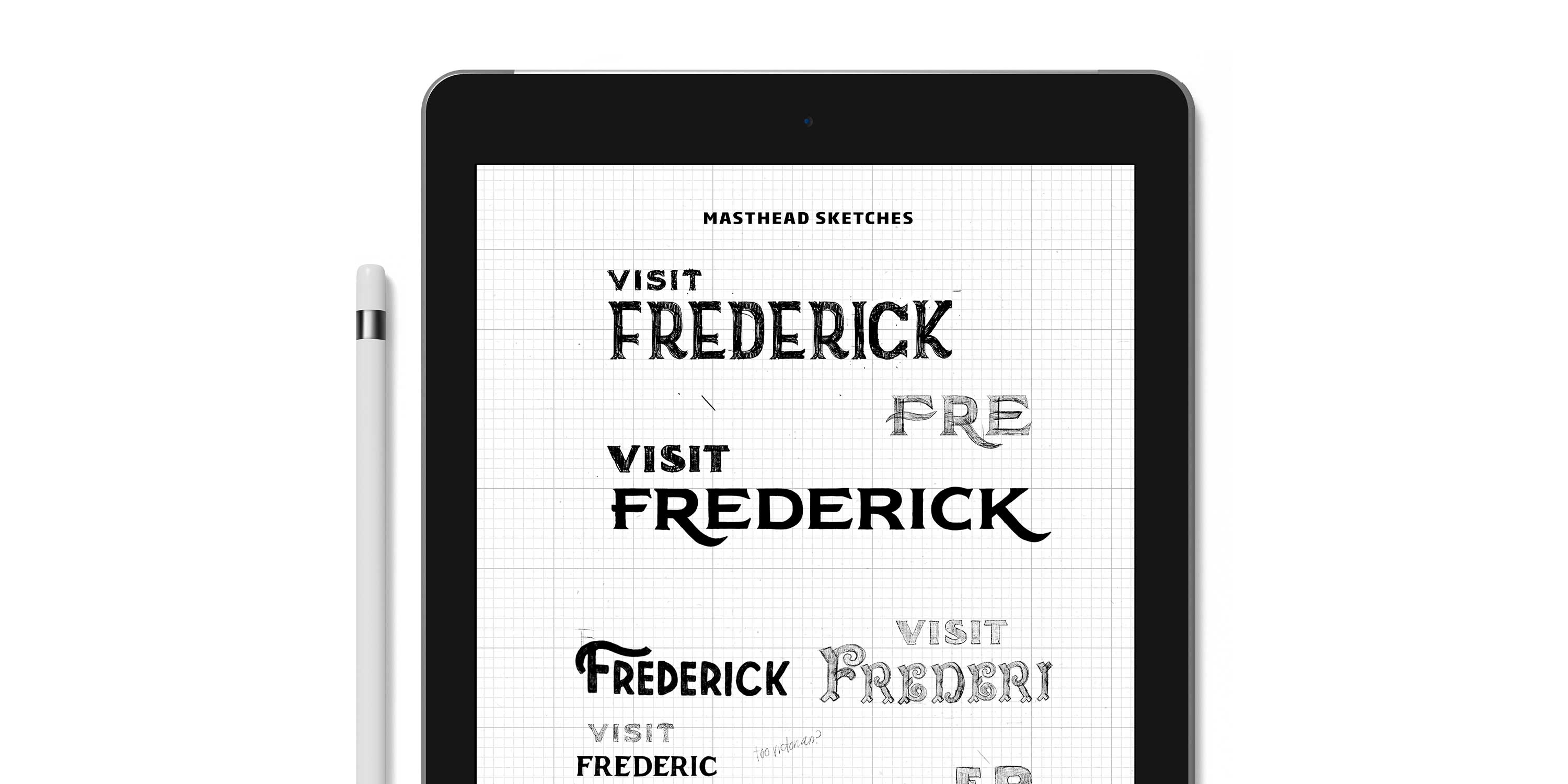 NEW YEAR, NEW LOOK
For the interior, we wanted readers to interact with the guide as they do magazines with feature articles. So, we reorganized content, allowing more space for feature spreads in key areas of interest and design that spoke directly to the editorial. Hand lettering was used throughout the guide to bring life to the publication and mimic the one-of-a-kind experience Frederick has to offer. New photography further enhanced the guide and allows for visitors to see themselves in unique experiences.
Once we realized these new brand elements, we infused them in different channels across Visit Frederick's advertising and marketing campaigns. Hand lettering was crafted for advertising headlines, large, high-impact photography was plastered on the website and across all new marketing materials, and we continued to add to our new identity of brochures, showcasing Frederick's unique visitor experiences, like outdoor adventure and main street shopping. Now, instead of each piece having its own personality, the marketing collateral works together to create a cohesive story, promoting Frederick as a must-see vacation destination.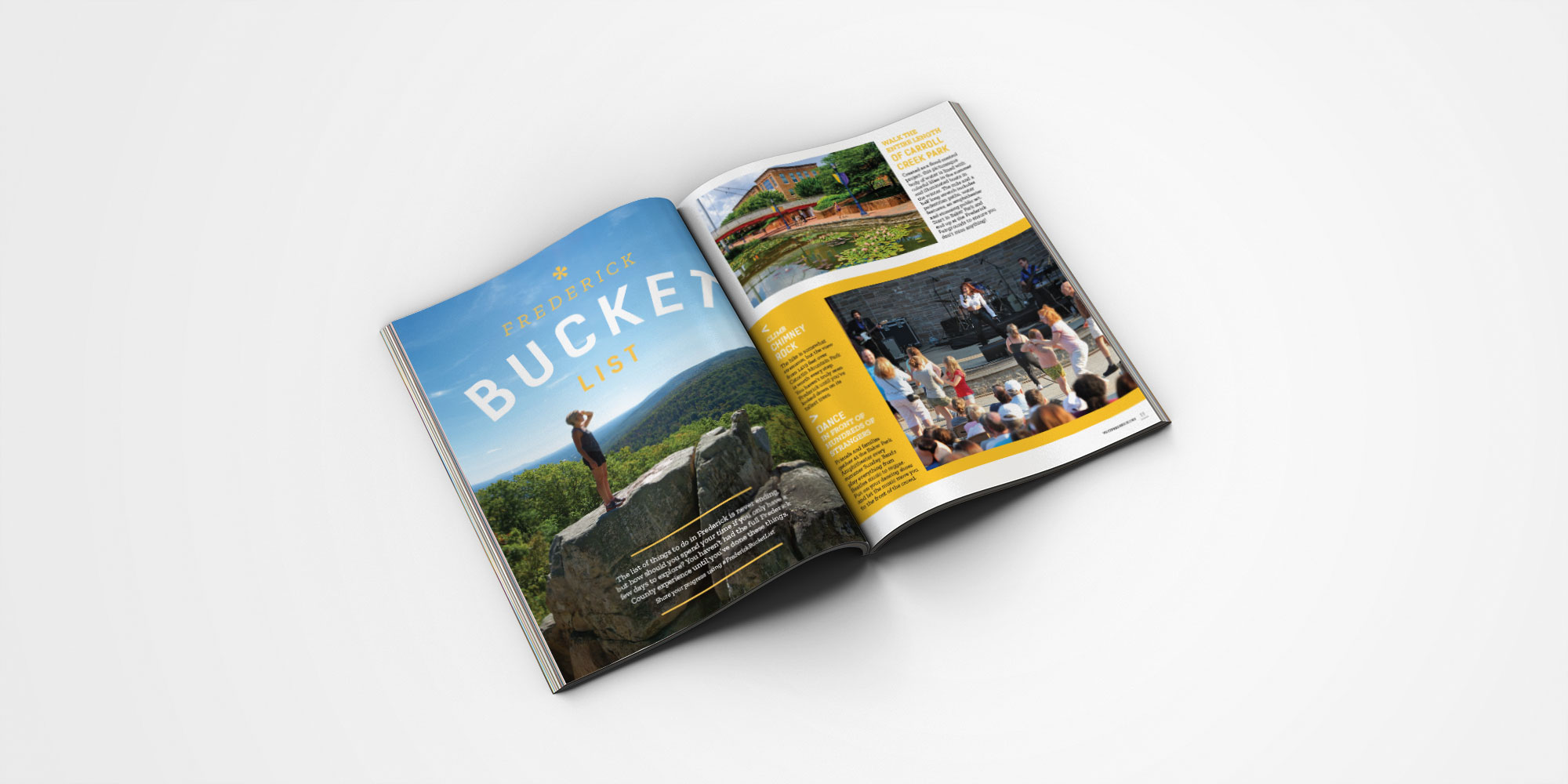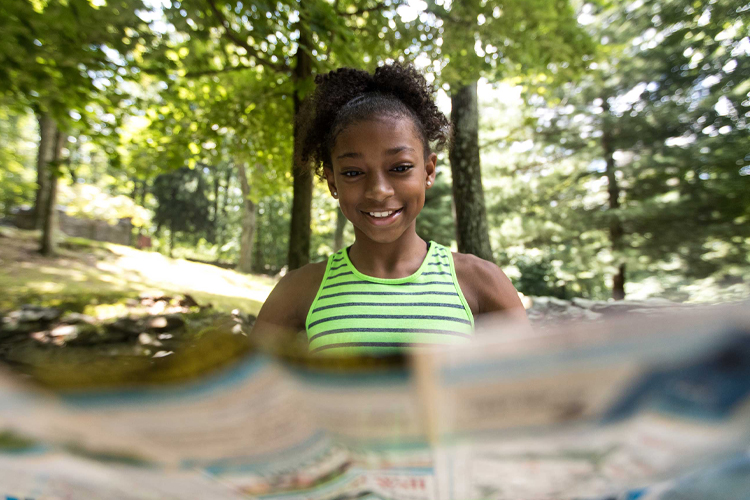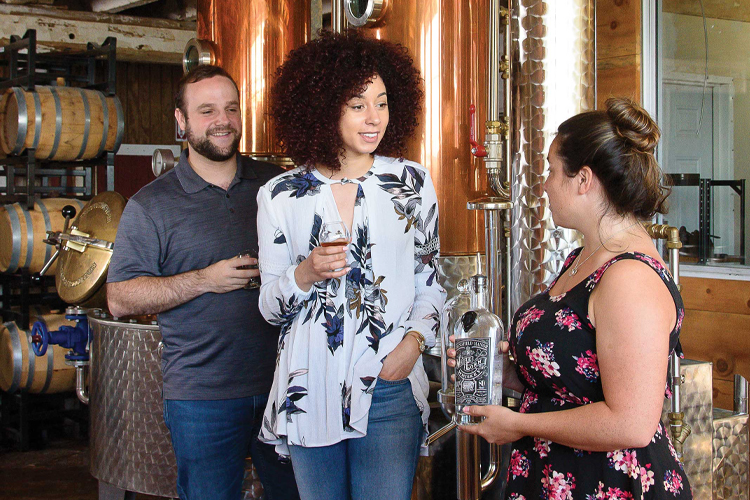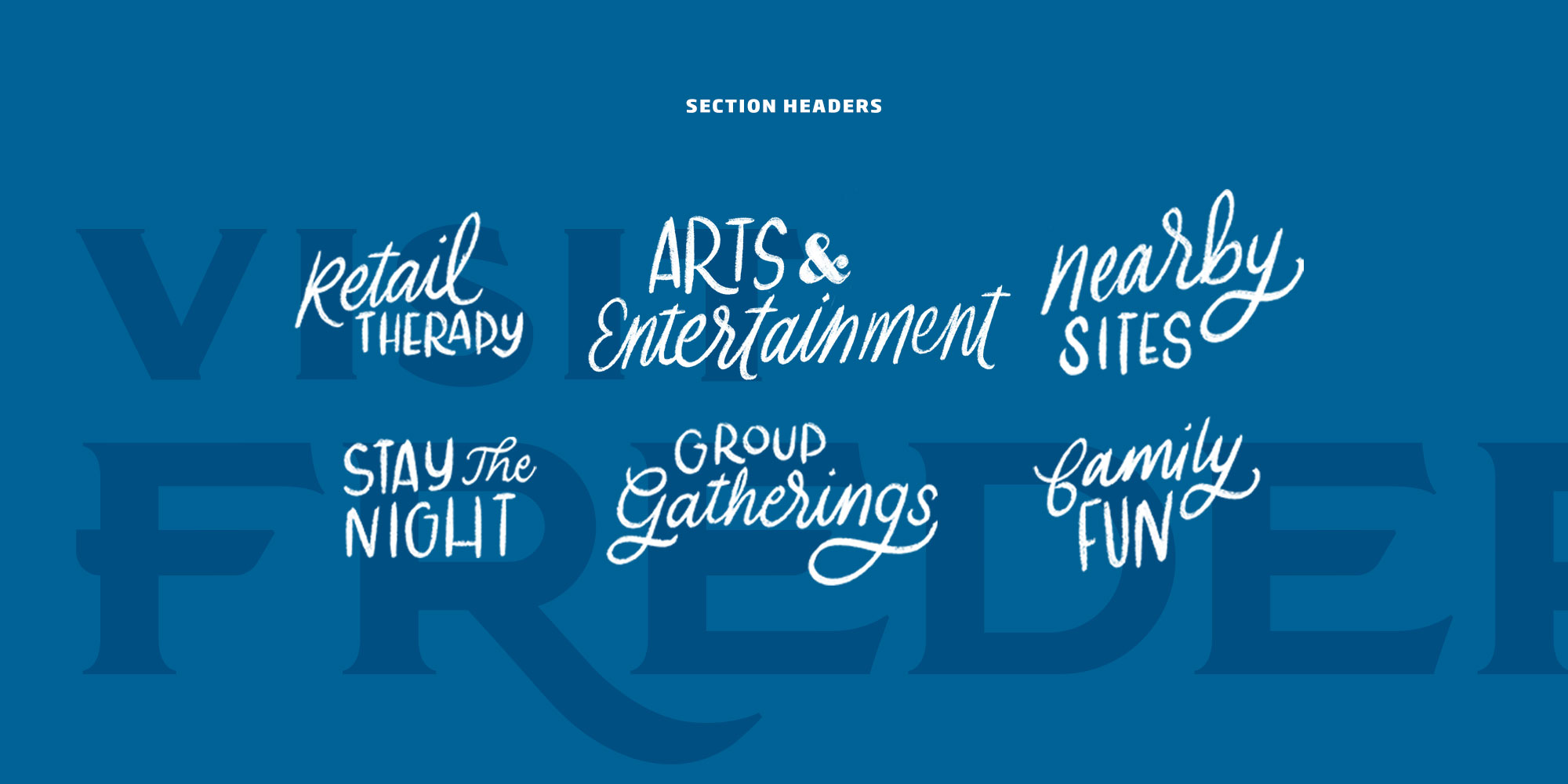 Y'ALL READY TO SEE YOUR FIXER UPPER?
After getting rid of the knob and tube wiring, ripping up the carpet, and tearing down some walls, the 2018 Visitor Guide is now being distributed at hotels, kiosks, restaurants, and shops throughout Frederick County and beyond to outstanding review. Since we started designing Visit Frederick in 2004, it has made its rounds to more than 15 countries and over two million copies have been printed.
As a business that's located in Frederick, with employees who live in Frederick, and clients who call Frederick home, you could say we know Frederick pretty well. That rich community experience, plus the trusting relationship between Postern and Visit Frederick, helps make projects like these succeed. We were able to showcase all of the sides of Frederick—history, outdoor adventure, dining, and shopping—while still highlighting what sets Frederick apart from other destinations. And that, we'd say, makes for a successful renovation.