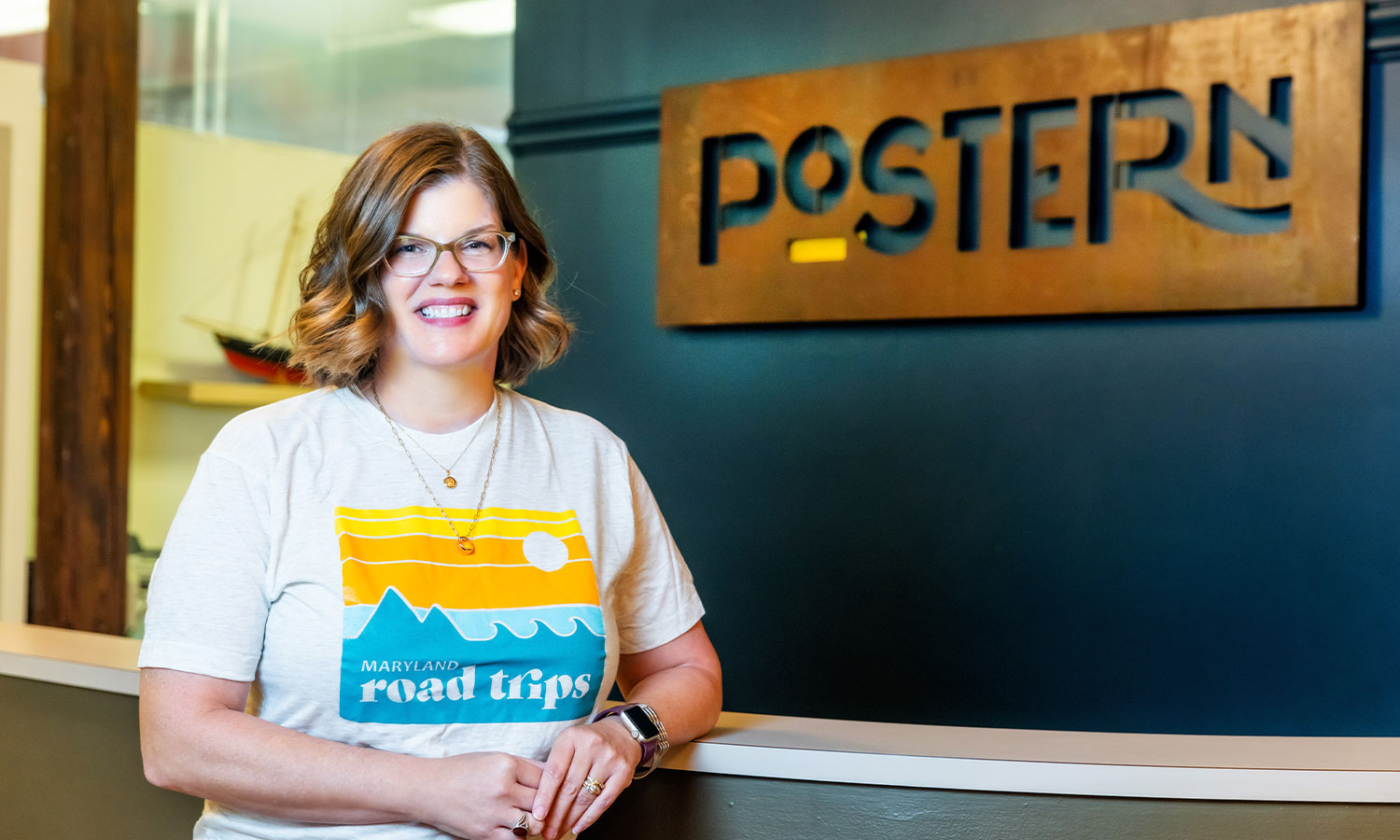 Postern Owner and Creative Director Emily Dorr and team recognized for supporting Maryland tourism industry during COVID-19 pandemic 
Maryland Tourism Coalition has awarded Postern Owner and Creative Director, Emily Dorr, the 2021 Tourism Advocate Award for her hard work, dedication, and commitment to Maryland's tourism industry.
As a small-business owner, Dorr has a longstanding history of partnering with destination marketing organizations, small businesses, hospitality companies, restaurants, and other tourism and travel entities. Whether overseeing the creation of visitor guides, lending consultative marketing expertise to businesses, or guiding the direction of destination-based marketing campaigns, she has always advocated for the success of the state's tourism industry.
"Emily Dorr and the Postern team have been loyal partners to our organization for many years," said Michael Henningsen, Executive Vice President of Plamondon Hospitality Partners and President of the Maryland Hotel Lodging Association. "Throughout our successes, and at times when our industry has faced adversity, we've been able to look to Postern for guidance and support."
When the turmoil of COVID-19 placed many of those long-standing partners at risk due to the various travel restrictions and shutdowns, Dorr and her team dove headfirst into creating solutions that would support tourism directly and indirectly for the benefit of their clients and the state of Maryland in its entirety. 
"It would have been easy for Emily to take the posture that so many other small businesses owners were forced to endure throughout the COVID-19 pandemic: hunkered down and simply focusing on self-preservation," said Ruth Toomey, Executive Director, Maryland Tourism Coalition. "It was certainly the safest approach; however, she has always been committed to ensuring the success of her clients, even when it's fraught with challenges."

While simultaneously working to sustain her own small business, Dorr poured the energy of her business into adapting strategic marketing efforts for its clients, such as reenvisioning tourism publications in digital formats, creating digital advertising campaigns to promote destination-based travel in adherence with COVID-19 restrictions, hosting free supportive collaboration groups for clients and non-clients alike to ideate best practices in such challenging times, designing an array of signage to reinforce safety and cleaning procedures in hotels, building partnerships between for-profit and nonprofit organizations to meet basic community needs, and employed messaging and design expertise to support hiring and retention efforts in a time when it was difficult to keep employees in tourism and hospitality-based occupations. 
While these are a handful of the services Dorr directed throughout the tumultuous days of the last 12 to 18 months, the most notable step in advocacy for tourism was the start of a new business entirely.