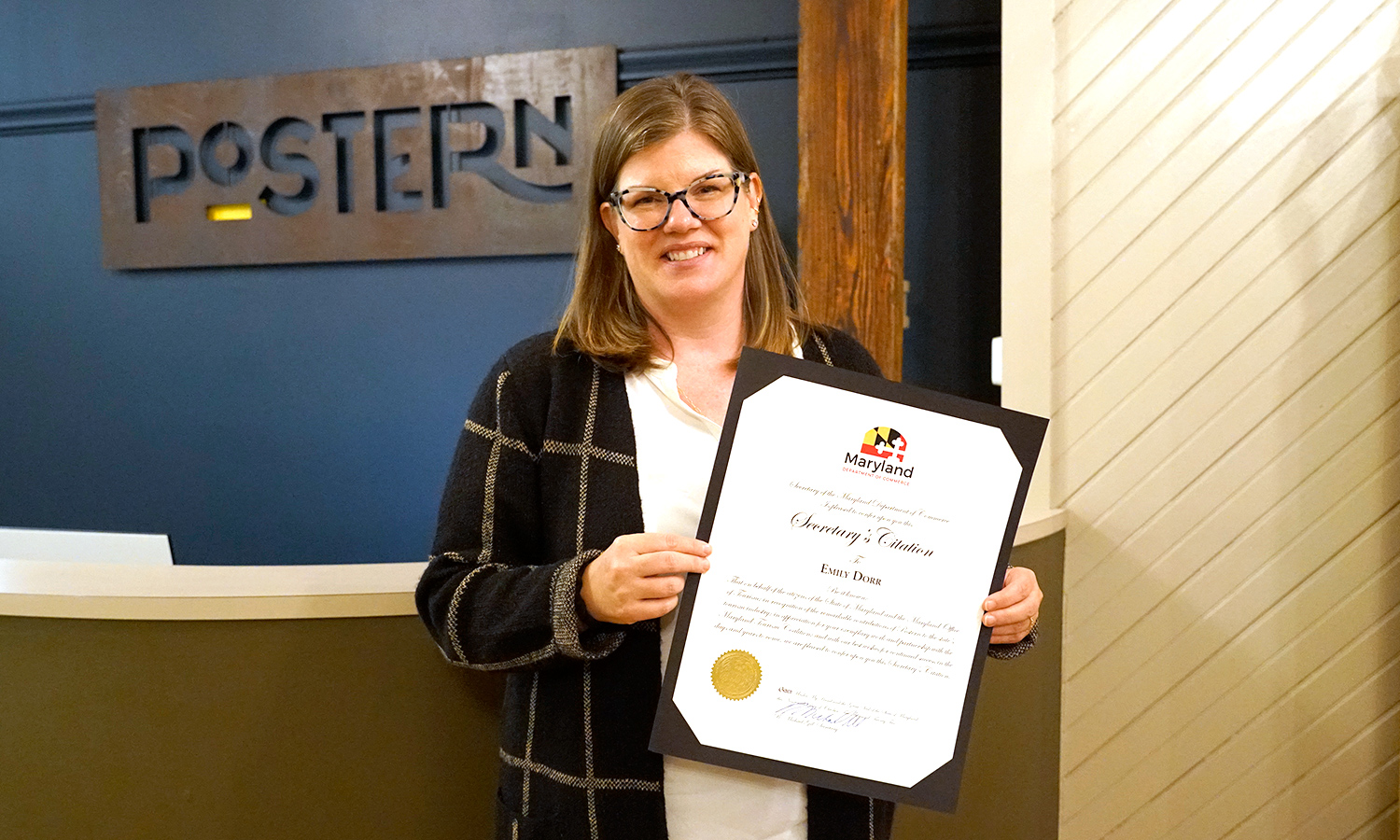 Postern Owner and Creative Director, Emily Dorr, awarded with a Secretary's Citation for remarkable contributions to Maryland tourism.
The Maryland Department of Commerce has awarded Postern Owner and Creative Director, Emily Dorr, with a Secretary's Citation for her continued work and success in furthering Maryland's tourism industry. 
An active member in the Frederick community, Dorr is a small-business owner whose partnerships with destination marketing and hospitality groups, restaurants, and other small businesses have helped shape and impact the landscape of Maryland tourism and travel. One of the ways she accomplishes this is through Postern, her full-service marketing and advertising agency, and its sister company, Postern Publishing. 
The publishing branch of the business handles the creation of custom traditional and online publications, including the website Maryland Road Trips—an online resource that was created during the pandemic to reimagine domestic travel and leisure marketing.
The Maryland Road Trips team of diverse contributors create a wide range of engaging travel experiences, curated road trip itineraries, and helpful tips for travelers. With 330 unique pieces of content to date, the website and social media accounts have successfully promoted over 130 Maryland cities and towns, and over 500 different businesses.
"I've lived in Maryland for ten years, and I'm amazed by all of the destinations I didn't know about," says Laura Rennie, Maryland Road Trips Editorial Manager. "Our work brings awareness to the many exciting adventures that can be had here. It's a joy to chat with our readers and hear which articles inspired their recent travels." 
From week-long excursions to short day trips, the website's content ranges from popular destinations like Deep Creek Lake, to hidden-gem experiences such as the Mermaid Museum in Berlin, MD. Other recommendations include destinations for history buffs, outdoor enthusiasts, arts and culture aficionados, and appealing dining and shopping locations. This content generates tens of thousands of pageviews each month and is also promoted through e-newsletters, digital advertising campaigns, sponsorships, and social media giveaways. 
This broad reach and quality engagement across such a diverse group of platforms is invaluable to their clients. "We have always been an ideal road trip destination, and Maryland Road Trips helps us convey this message to potential visitors," says Betsy DeVore, Director of Marketing & Communications at Visit Hagerstown & Washington County. "Their creation of beautiful ads and unique articles are delivered and seen by more people than many of the other ad mediums we use."
Because of this notable impact, the Secretary of Commerce, R. Michael Gill, and the Maryland Office of Tourism have commended Dorr with "recognition of the remarkable contributions of Postern to the state's tourism industry" and "appreciation for your exemplary work and partnership with the Maryland Tourism Coalition." This honor was given during the annual membership meeting of Visit Frederick, another tourism organization who has partnered with Dorr and Postern to create and distribute their annual Visitor Guide, brochures, digital advertising, and miscellaneous marketing materials. 
"This is a truly unexpected honor," said Dorr. "Everything that we have achieved to date, and aspire to achieve in the future, is made possible by our talented team members, who go above and beyond to see our clients' destinations and businesses flourish. We take a great deal of pride in the communities we represent and support on both a local and statewide level." 
Through the dedication and hard work of the team at Postern, and the insightful leadership of Dorr, they have established themselves as an invaluable resource for the future success of Maryland's tourism industry, and are well-deserving of this recognition.
Postern is a full-service marketing and advertising agency located in downtown Frederick, MD. Their services include strategic marketing, content, and creative services. Postern Publishing is a custom publishing company for traditional and online publications.