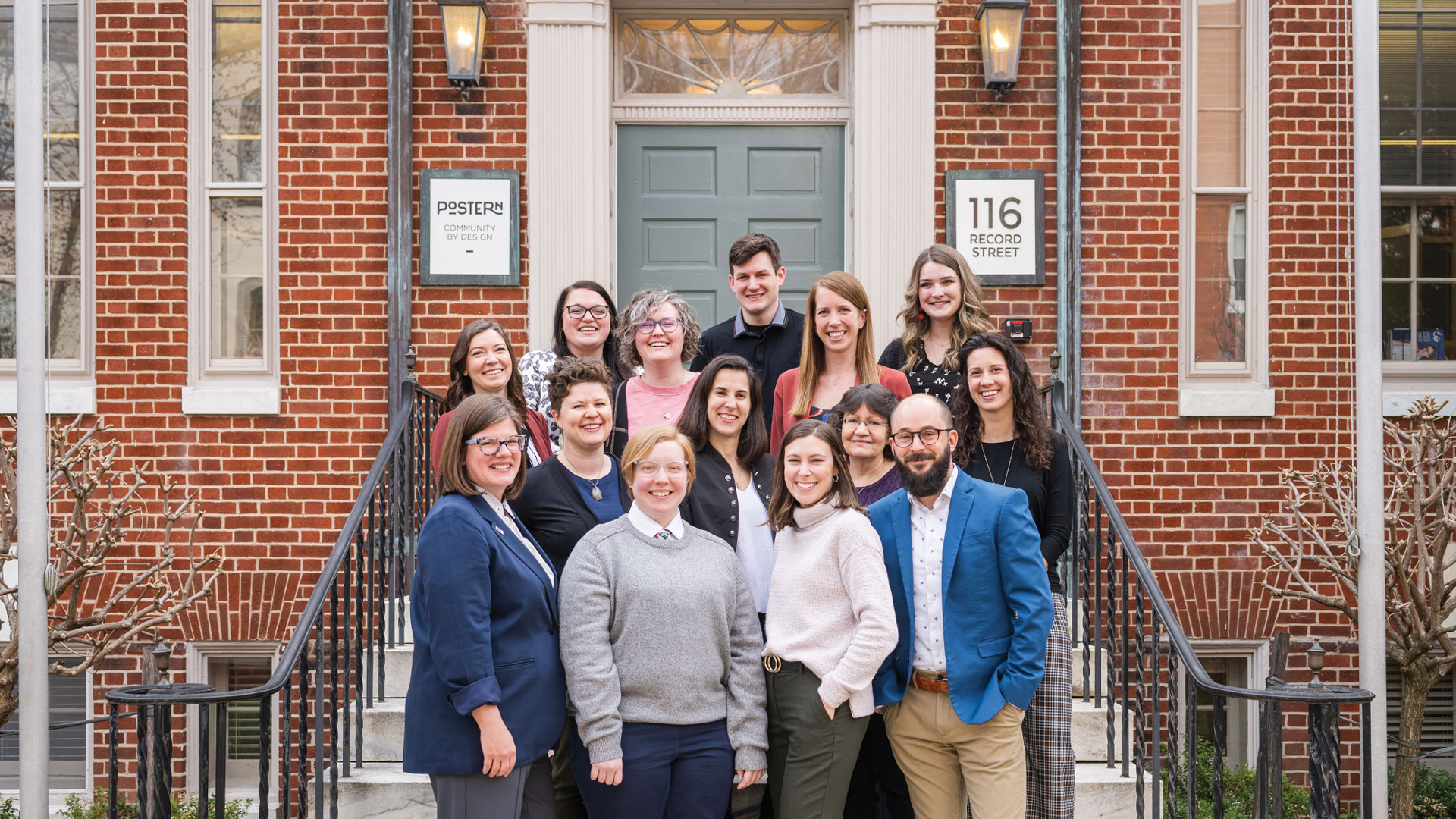 Frederick marketing agency eyes growth & elevation for team, services, clients & community
Frederick, Md. – Postern, a full-service marketing agency serving Frederick County and beyond, today announced the transformative relocation of the company's headquarters into a historic building in the heart of Downtown Frederick. The Postern team is not only proud to take on the role of being stewards of this meaningful piece of Frederick's history, but also proud of what the building represents – the growth of their team as well as the continued elevation of services they provide for their clients.
Unassumingly tucked along Record Street in Downtown Frederick sits the former C. Burr Artz Library – a charming brick building adjacent to City Hall and only a stone's throw from Baker Park – which is now home to the Postern team, led by life-long resident of the area, Emily Dorr. In Dorr's eyes, the new facility is not simply a larger building, but a space in which Postern intends to continue the elevation of their team members, their skills, their work product, and as a result, their impact on the community.
"It seems fitting we'll be occupying a space that for decades was an essential source of knowledge and inspiration, because we intend to fill those very rooms with collaborative discussions, innovative ideas, and meaningful relationships that will keep our community thriving," says Dorr, Owner & Creative Director at Postern.
Originally funded in part by the Artz family estate – in honor of Christian Burr Artz, a local farmer and land speculator whose wife left stipulations for a library in her will – the C. Burr Artz Library on Record Street opened in 1937, after its previous location was razed to widen the road. The building spanned 7,500 feet on two floors and was able to house 9,500 books. The library eventually needed to expand to accommodate the growing county and was moved in the early 1980s into the C. Burr Artz Library we know today on Patrick Street.
The thought behind the agency's move went well beyond expanding their physical space and focused on expanding their capacity to bring on new team members with specific marketing specialities to further advance their clients' goals. By creating more space for new team members, it also creates more opportunities for the growth and advancement of existing team members into leadership roles.
"Over the years, we've built some wonderful partnerships throughout our community and have made it a priority to see our clients grow towards their goals. Because of this collaborative spirit and commitment to supporting a thriving Frederick County, we now have the pleasure of beginning our own phase of growth," says Dorr. "We are grateful for the incredible support of our clients and community partners and we're excited to have you join us as we author the pages of this new chapter for Postern."
The Postern team will celebrate the new building with a flag-raising ceremony in lieu of a ribbon cutting later this month.
---
About Postern:
Postern is a full-service marketing and advertising agency located in downtown Frederick, MD. Their team of skilled marketing and creative professionals are committed to deeply understanding your industry, your business, your audience, and your goals to strategically and creatively connect you with your customers. With a deep devotion to their community, Postern believes true success happens when we invest in one another. For more information, visit posternagency.com.
Contact:
Eve Butt
Senior Marketing Strategist, Postern
eve@posternagency.com
301.835.7927